Transfer Files from Computer to Phone with QR Codes
2023-05-04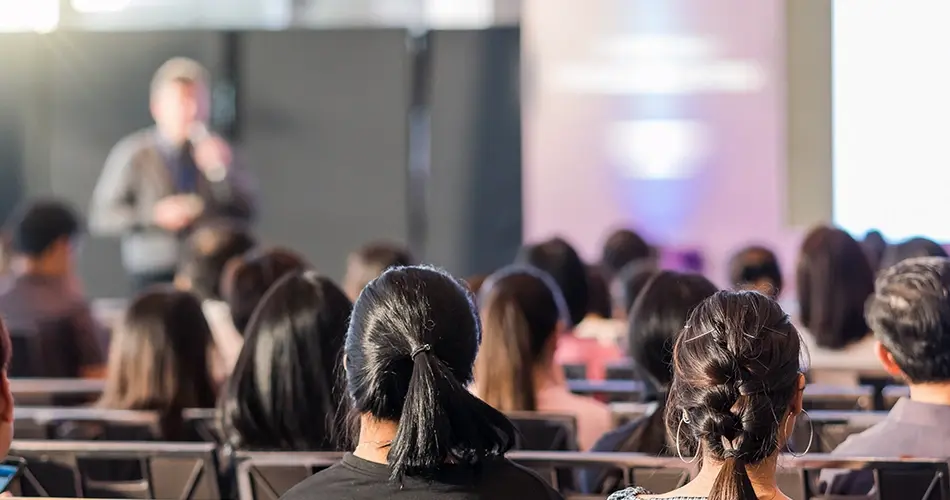 Imagine being able to transfer files from a computer to a phone without exchanging contact information. QRClip makes private file sharing via QR codes possible!
Picture this scenario: You're at a conference and encounter Sarah, a fellow attendee intrigued by your presentation. She requests a copy of your slides, but time is limited for both of you. Exchanging email addresses or phone numbers could be time-consuming and prone to mistakes. A more efficient and convenient method is needed to share the file.
That's when you remember QRClip, the file-sharing solution that employs QR codes for data transfers between devices.
How to Transfer Files from Computer to Phone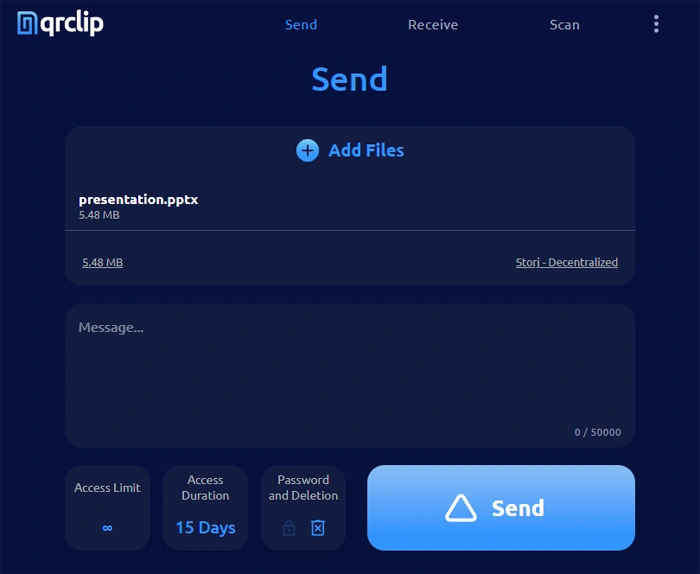 1) On your computer, open a web browser and visit qrclip.io/s. Choose the presentation file you would like to share, and click the Send button.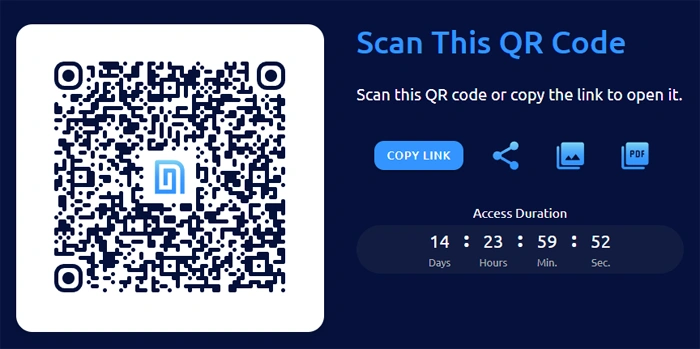 2) A QR code containing the encrypted file will be created.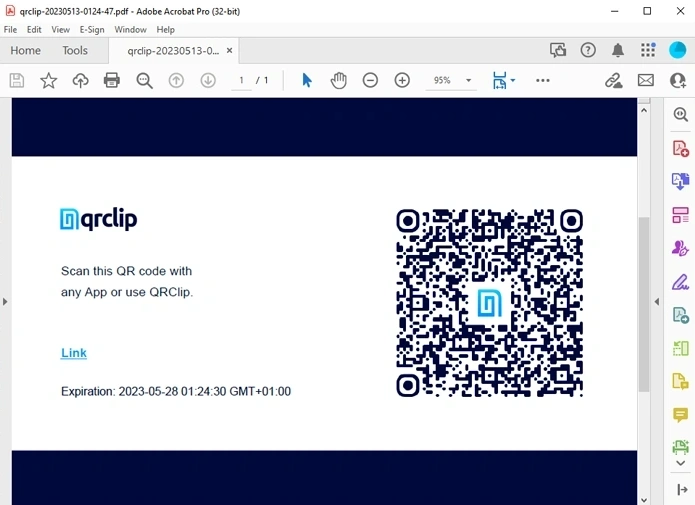 3) Save the QR code as a PDF document. This allows you to display it to other attendees later or print it for wider distribution.
4) Request Sarah to scan the QR code displayed on your computer screen. Inform her that she can use any scanning application or visit qrclip.io/rs on her mobile device's browser.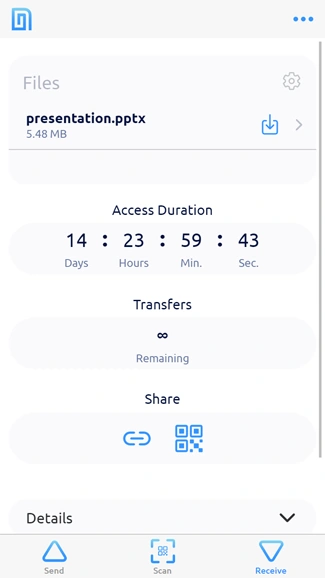 5) Sarah scans the QR code with her phone's camera. As a result, the presentation file is displayed on her screen, and she can download it by tapping on it.
In this seamless process, the file is securely transferred from your computer to Sarah's phone without sharing any personal contact information. If you save the PDF file, you can also effortlessly share the presentation with others later. It's also possible to copy the link and share it using whatever other method works best for the situation.
Advantages of QRClip
QRClip offers numerous benefits for transfering files from your computer to a phone using QR codes:
Security and Privacy: Share files without revealing your email address or phone number, ensuring your personal information stays private.
Speed: Enjoy quick and seamless file transfers, saving you time and effort.
Ease of Use: Sending files is as simple as scanning a QR code.
Flexibility: Printing the QRClip PDF lets you share it with lots of people.
Explore More QRClip Use Cases
QRClip's inventive file-sharing solution offers endless possibilities for secure and efficient data transfers between devices. Harness the power of QR codes to share files and information effectively in various situations. Check out these additional unique use cases where QRClip's QR code-based file sharing shines:
Distribute Classroom Materials Efficiently
Teachers can use QRClip to share course materials like lecture notes or assignments with students. Create a QR code, project it on the classroom screen, and let students scan to receive the necessary files. This encourages a paperless and efficient learning environment.
Speed Up Tech Support
IT support teams can send configuration files, software patches, or troubleshooting guides to users with QRClip. Generate a QR code, share it with the user, and provide easy access to essential files, accelerating the support process.
Revamp Geocaching and Scavenger Hunts
Event planners can create QRClip filled with exciting clues, puzzling riddles, or secret locations for modern geocaching or scavenger hunts. Players just need to scan the QR code to unlock their next challenge or get a helpful hint. This fresh approach adds a fun, new spin to classic treasure hunts. Plus, you can make it even more interesting with access limits and password protection!
Streamline Event Invitations
Craft QR codes for party, wedding, or special event invitations. Include event details, RSVP options, or directions. Set it to expire after the event, ensuring the information stays relevant and secure.
Make Temporary Workspace Access Easy
Employers can create QR codes that hold temporary Wi-Fi passwords, building entry codes, or workstation login details for short-term workers, interns, or consultants. Set the QRClip to expire after a certain time for top-notch security and convenience.
Enhance Short-Term Rentals and Accommodations
Hosts of vacation rentals, Airbnb properties, or other short-term accommodations can create QR codes with check-in instructions, house rules, or local recommendations. Set the QR code to expire after guests' stay, maintaining privacy and security.
Share Conference or Workshop Materials Effectively
Conference, workshop, or seminar organizers can make QR codes with presentation materials, resources, or contact information for attendees. Set the QR code to expire after the event, keeping the materials exclusive to attendees.
QRClip offers endless potential for secure, efficient, and user-friendly file transfers. Embrace QRClip's versatility and explore the many ways it can simplify data sharing.
Conclusion
Discover the protection, and effectiveness of transferring files from your PC to a mobile device. QRClip presents a dependable, simple answer for your file-sharing necessities. This solution applies in instances like conferences, where sharing personal contact data remains inconvenient. Imagine asking everyone for their email to share files, or receiving one and having to send the documents.
QRClip also allows you to send files by scanning QR codes. You can easily transfer files from your phone to a nearby computer by scanning a QR code. This versatile feature is ideal for fast, secure file transfers in many situations. Read our blog post to learn more about sending files from your phone to a computer using QR codes.
Try QRClip today and harness the power of QR code-based data transfers. Experience the convenience, security, and efficiency for yourself by visiting qrclip.io.