QRClip: The Easy Way to Transfer Files Anonymously
2022-02-02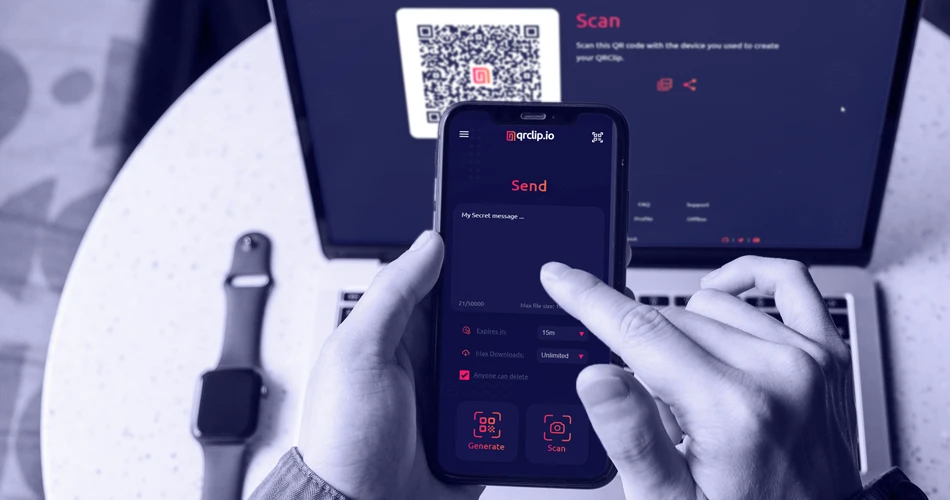 Update 2023: We're excited to announce that we have released a new version of QRClip with even more features and increased limits! This update enhances the overall user experience, making QRClip even more powerful and versatile. To learn more about the latest improvements and how to get started with the new version, please check out our latest blog post on the new release.
Now it's easy to send files and texts securely – all you need is a camera!
With today's technology, it's extremely easy to transfer files and texts between devices, especially if you own the devices used to transfer them. If you know the person, you probably have their email as well and can easily send the file.
But what happens if you don't know the person? In that case, you need to ask for personal information, such as an email. However, given the current concerns about the use of personal information, many people are hesitant to simply share email addresses and other personal information.
QRClip changes all that. It's the new and intuitive tool that allows individuals to transfer files anonymously and easily. It comes with strong encryption and uses your device's camera to send encrypted files and texts.
Features
QRClip offers a range of features that make sharing easy and secure for everyone:
Send and receive encrypted files and texts with just a camera.
No email, installation, or login required.
AES256 encryption that only you can decrypt.
Always automatically deleted.
Transfer files anonymously.
QRClip is extremely easy to use. Just go to the website or open the app, click "Send" or "Receive" depending on what you want to do, scan a QR code and you're done.
AES256 is the most powerful encryption standard publicly available today. As the name implies, it's a 256-bit long key, which is equivalent to 1.1 x 10⁷⁷. Despite its length, it's a fast encryption. Since the key is only exchanged between devices with the QR, only the users can decrypt it, not QRClip.
Use Cases
You can use QRClip in many ways:
Share texts and files between devices.
Create a PDF file with the QR code, print it out and send it by mail so the encryption key is never online.
Create a QR code to send by email
QRClip is free if you send a 5 MB file and a 500 character text. With a free account, you can send a 50 MB file and a 5,000-character text, and the validity period is extended to 48 hours. With a premium account you get a limit of 50,000 characters, a file limit of 1 GB, an expiration time extended to twelve days, and no advertising.
Why?
When you send something to the cloud or in an email or a message, there's nothing stopping the hosters that provide these services from scanning your data to get information about you. Now, with QRClip, there's a secure, easy-to-use, and affordable way to prevent that from happening. Want to try it out for yourself?
Try It For Free