Introducing the improved QRClip
2023-02-05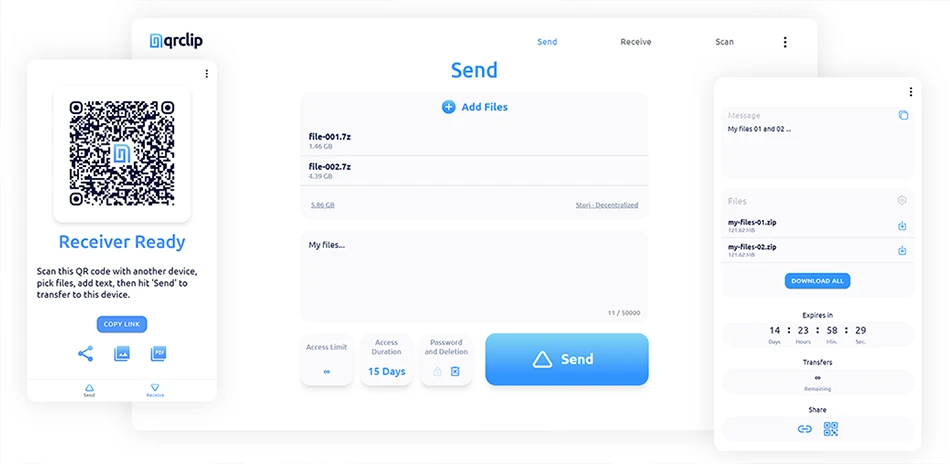 QRClip is excited to announce a significant upgrade to its data sharing platform, complete with a sleek new design, improved cross-platform compatibility, and enhanced security features. The app has undergone a complete overhaul to deliver an even more user-friendly and secure data sharing experience.
One of the major changes in QRClip is the adoption of XChaCha20-Poly1305 encryption, replacing the previous AES256-CFB encryption method. XChaCha20-Poly1305 offers faster and equally secure authenticated encryption, making it the preferred choice for industry giants like Google and Cloudflare. This advanced encryption algorithm provides users with a simple yet fast and secure data sharing solution.
In addition to the upgraded security features, the client app has been fully rewritten to ensure a more efficient and user-friendly experience. The new codebase paves the way for native Android and iOS apps, which will be released shortly. Additionally, QRClip is working on an Outlook add-in, streamlining the process of sending self-destructing data via email quickly and effortlessly.
We invite you to try out the revamped QRClip for yourself and enjoy its enhanced security, speed, and user experience. Rest assured, old QRClips are still compatible with the new version. Should you need to access files encrypted with the older offline mode, you can find it here. However, we encourage you to make the switch to the latest version, which boasts faster performance, increased security, and the ability to encrypt both text and files.
Thank you for your continued support, and we look forward to elevating your data sharing experience with the new and improved QRClip.
Thanks,