File to QR Code: The Ultimate Solution
2023-05-07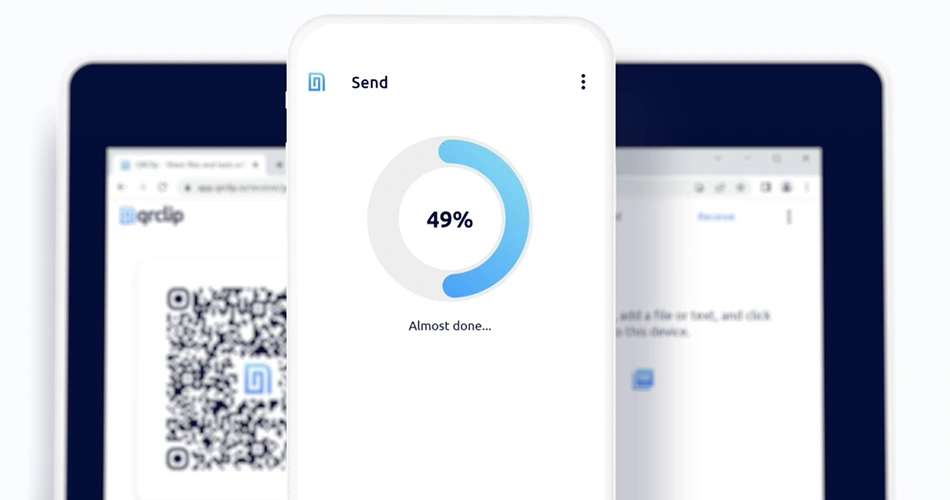 Picture this: You have an important meeting coming up with potential clients or business partners. You need to share sensitive information with them, but you don't want that data to linger in multiple email accounts vulnerable to security breaches. Plus, you don't even have the email addresses of all the participants to send the information.
This is where QR codes save the day!
With QRClip, you can convert one or more files into a QR code, print it out, and let everyone scan the QR code. You can even add a passphrase to protect the QR code and the important documents inside.
In this blog post, we'll show you how QRClip works and what benefits you can gain from using the file-to-QR code solution for your documents. QRClip isn't just a simple QR code generator, but a complete and secure file sharing application.
Introducing QRClip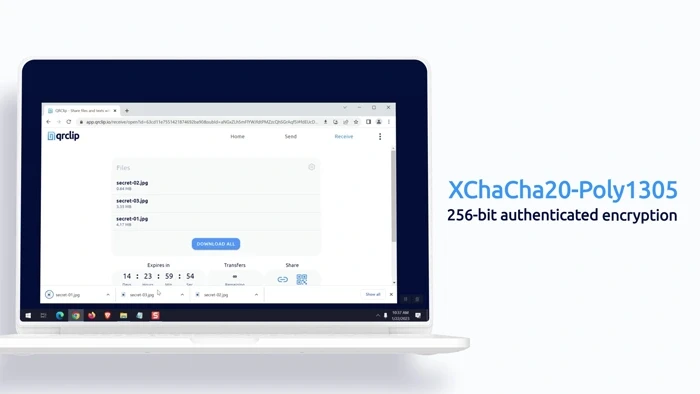 QRClip is a cutting-edge file sharing solution that enables you to create QR codes containing your files in a safe and private manner.
With QRClip, you simplify the file transfer process while ensuring a high level of security and privacy. Let's take a look at how you can use QRClip to convert a file, such as a PDF file, into a QR code or link.
How to Use QRClip to Generate QR Code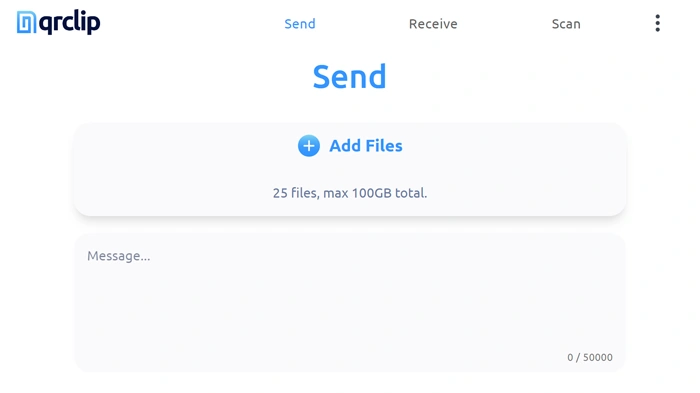 Visit qrclip.io/s on your computer or mobile device.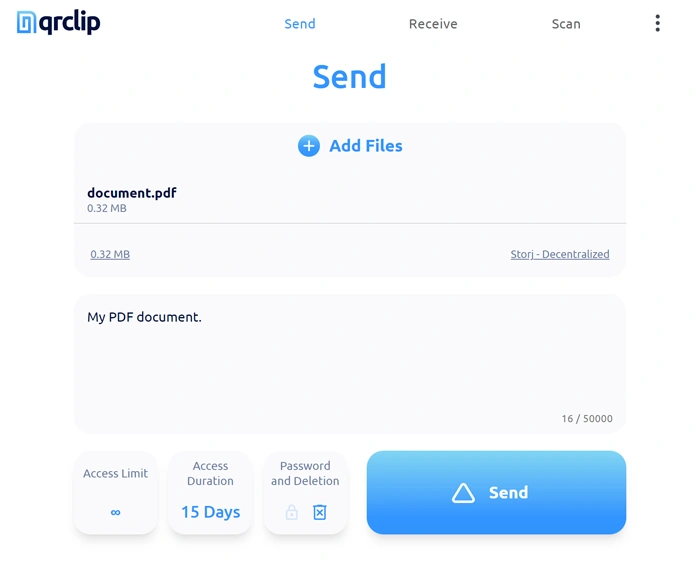 Choose the file you want to convert to a QR code, such as a PDF file, and add any text. Then click Send to create a QR code.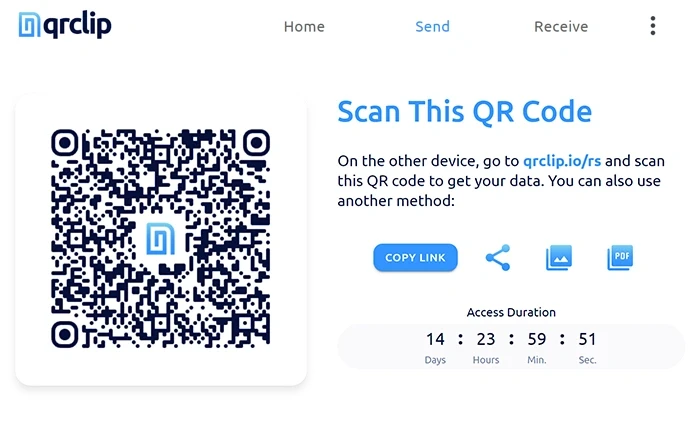 You will get a QR code that contains your encrypted file. Share the QR code with your recipients, who can use a QR code scanner on their mobile devices to access the file.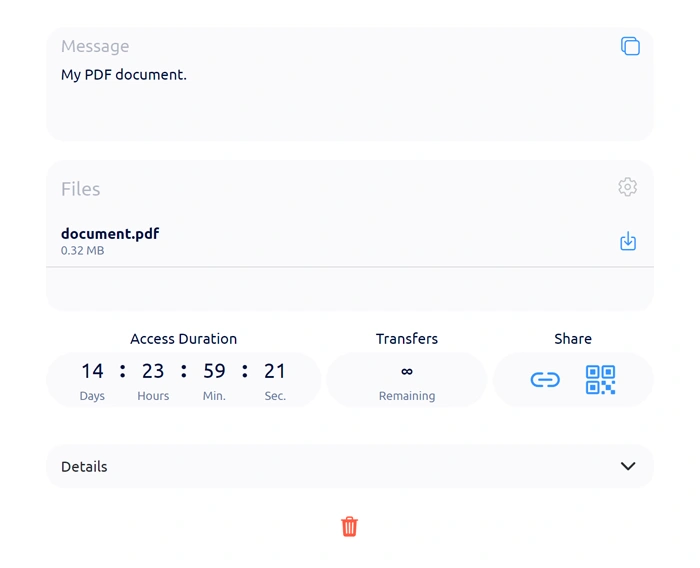 QRClip will work with any QR code scanner, or you can use QRClip itself to scan the QR code.
Key Features of QRClip for Secure File Sharing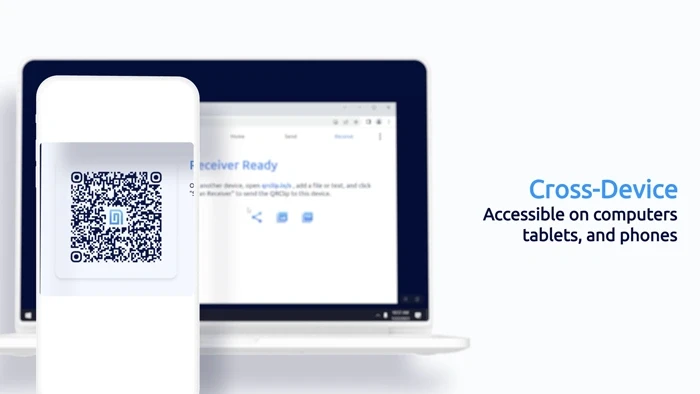 Unparalleled Encryption
QRClip utilizes the robust XChaCha20-Poly1305 encryption to protect your important documents, guaranteeing that only you and your intended recipients can access the shared QR code. Your sensitive information is well-protected.
User-friendly and Flexible
QRClip strikes the perfect balance between security and ease of use. Create QR codes in a matter of seconds, and customize expiration times and download limits to suit your specific requirements. Just scan QR codes to download your data, and don't forget that you can also scan QR codes to upload your documents.
Optional Password Protection
Enhance the security of your file share with optional password protection. By adding a unique passphrase to your QR code, you can ensure that your QR codes remain inaccessible even if the QR code falls into the wrong hands.
Zero-Knowledge Architecture
QRClip's zero-knowledge architecture guarantees that your data remains completely private. Not even QRClip can access your encrypted files, providing you with the ultimate peace of mind as you share sensitive information.
Versatile Across Platforms
QRClip's seamless compatibility across smartphones, computers, and tablets ensures that you can securely share everything whenever and wherever you need. Access the service through a browser, terminal, or dedicated mobile app, and experience a consistent, secure data-sharing experience across devices.
Anonymous File Sharing
Preserve your privacy by anonymously sharing files with devices near you using a simple QR code. You don't have to reveal your emails or phone numbers because the QR codes enable secure, contactless exchange.
With QRClip, you can experience worry-free file sharing, knowing that your sensitive files are protected by cutting-edge encryption and privacy features.
Secure File Sharing in Various Scenarios
QRClip's unique approach to file sharing makes it a versatile solution for various scenarios where security and privacy are paramount. Here are some instances where QRClip can provide added value:
Educational Institutions
Teachers and professors can securely share lecture notes, assignments, and sensitive student information with their classes. QRClip's time-limited and password-protected QR codes ensure that only authorized individuals have access to the QR code.
Legal and Financial Firms
QRClip allows legal and financial professionals to securely exchange sensitive documents, such as contracts and financial statements, with clients or colleagues.
The optional password protection and self-destructing QR codes and links provide an extra layer of security for sensitive information.
Nonprofits and Charities
Nonprofit organizations and charities can use QRClip to securely share sensitive information such as donor lists, financial reports, and internal communications with their staff, volunteers, and stakeholders.
The secure encryption and self-destructing QR codes help maintain confidentiality and comply with data protection regulations.
The Perks of File to QR Code with QRClip
Using QRClip to convert files to QR codes offers numerous advantages:
Recipients can scan the QR code using their mobile devices, ensuring a secure and private exchange of sensitive information.
QRClip provides an additional layer of security, as the QR code can be deleted and expires after a specified time.
QRClip's dynamic QR codes are bi-directional, allowing you to scan a QR code to upload files. For example, you can send from your phone to a desktop computer by simply scaning QR codes.
Frequently Asked Questions
Do QRClip's QR codes expire?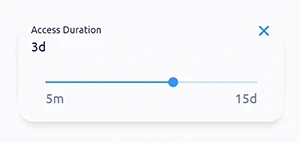 With QRClip, you can set an expiration time, ensuring that the QR code is only accessible for a limited period.
How do I create a QR code?
With the user-friendly interface of QRClip you can easily create a QR code for all your files.
Can I use QRClip for free?
QRClip offers a free limit of 50MB, and we don't offer subscriptions. However, you can buy credits that never expire, allowing you to send large files and use all the Premium features while they last.
Is password protection truly secure, or is it easy to break?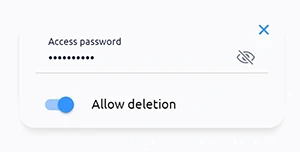 Protecting your QRClip with a passphrase makes it extremely secure. When you add one, it serves two important purposes. Firstly, it makes it impossible to open the QR code from our backend without the passphrase.
Secondly, even if you have the full link and the encrypted files, you cannot decrypt them without the password. This added layer of security ensures that your sensitive information remains confidential.
The encryption key is created by combining the key on the QR code and the passphrase using the Argon2id cryptographic hashing algorithm. This advanced method of encryption further reinforces the safety of your data.
Can a QR code store a file?
Yes, although the actual document is stored on a server, the QR code simply acts as a link to the stored file. This allows for easier updates and more efficient storage of larger documents.
Recipients can access the file by scanning the QR code with a compatible scanner app. In our case, it stores a link with the information to retrieve the encrypted files from the server and the encryption key to decrypt the contents.
Can you upload a file to a QR code?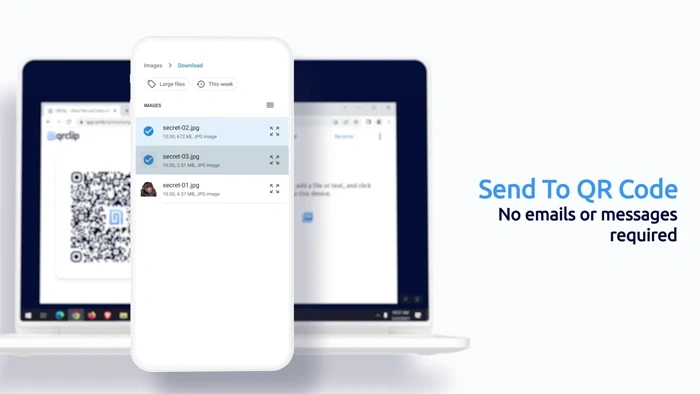 Actually, you can send and receive with QRClip by scanning QR codes. Scanning QR codes to download files is nothing new. But with QRClip, you can also scan to upload to a QR code. This can be especially useful if you want to send something from your phone to a desktop computer that's right in front of you. You can learn more about this in this blog post about how to upload to a QR code.
Are QRClip QR codes dynamic or static ?
QRClip QR codes are dynamic, offering a range of customization options beyond what static QR codes provide. Despite the link consistently pointing to the same QRClip, the dynamic QR codes allows for additional features.
These features include the ability to delete data at any time, set expiration times, and customize download limits. These extra features contribute to increased security and control, making QRClip a preferable choice for secure file sharing using dynamic QR codes.
On which platforms is QRClip available?
QRClip is versatile and accessible on various platforms, providing a mobile-friendly experience. You can easily use it on any modern browser, and dedicated apps for iOS and Android enhance your experience on mobile devices.
Additionally, a command line interface is available, enabling you to use QRClip's functionality within a terminal, such as on a server. These options ensure seamless file transfers across virtually any device.
Can I print the QRClip QR code?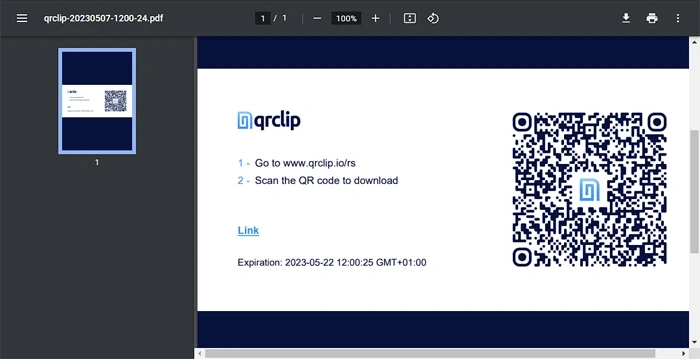 Yes, you can! Generate a PDF file that includes both the link and the QR code or download the QR code image to print and share as needed. Sharing your QR code in this manner has the significant advantage of keeping the actual encryption key offline.
The only way to access your data is through the physical hard copy. This method ensures that unauthorized users cannot access the information electronically, which greatly reduces the risk of data breaches.
Without the encryption key, the information is entirely inaccessible and useless, adding an extra layer of security. By using this approach, you can be confident that your sensitive data remains protected, even when sharing it with others.
In Conclusion
QRClip revolutionizes secure file sharing with its unmatched security, privacy, and user-friendly features. By converting files to QR codes, you can safeguard your data and maintain anonymity while sharing information across devices.
To discover more about QRClip and how it can enhance your data-sharing experience, visit our website and explore the features that make QRClip the ultimate file to QR code solution.
Experience the convenience of QR code-based file sharing with QRClip today!